MEET THE CAMP BRICK STAFF
Jennifer Thayer/ Owner and Camp Director – Nashville, TN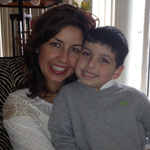 Hello Camp Brick friends and families my name is Jennifer Thayer and I am more excited than ever as we enter Camp Bricks fourteenth year in business! As many of you know I started this business as a single mom with a desire to make a positive impact on families all around the Nashville and surrounding areas. I also wanted to build a business that could one day be something my son Gunnar could be proud to own and run for himself. Gunnar's love for LEGO® bricks and his passion to build and create new and exciting things has been a driving force behind Camp Brick's tremendous success and popularity. Camp Brick is proud to be a "family" run operation. Nancy and Larry Rollins (my mom and dad) are often found helping with the day to day operations and having just as much fun as the kids building with LEGO® bricks and taking part in games while at camp.
It is projected that over 2000 kids from Nashville and surrounding areas will take part in the Camp Brick summer camp as well as after school enrichment programs in 2023/2024.
I have enjoyed watching the business impact so many wonderful children in a positive way. While at Camp Brick, children are encouraged to expand their minds, create new inventions, and contribute effectively in group settings.
Building with LEGO® bricks has become a passion for myself and my son Gunnar. We invite you to join us on this adventure, a true mission into the imagination! Thank you to all who have been so supportive since the beginning! We love your children and will continue to expand and grow our programs to help create a positive place for them to learn and grow.
Jennifer Thayer/ Owner Camp Brick. LLC